Military swords for collectors
Our selection of military swords currently available online.
Updated everyday, add this page to your favorites if you are a sword collector.
A selection of rare military swords for militaria collectors
Military swords are very popular among militaria collectors. Some rare swords can face a very high demand on the market, especially officer swords, WW2 Japanese swords or swords and sabers from the US Civil War. They are popular for their beauty and rarity. On this page, you will find Militaria-Deal selection of the best swords available online. 200 collectors are using this page everyday to find the missing sword for their collection.
RARE MILITARY SWORDS FOR COLLECTORS :

.
WW1 swords from various armies
Military swords were very much in used during WW1, especially by officers and cavalries at the beginning of the war. On this page, you will find an antique WW1 Prussian Infantry Officer's Degen sword and a rare German WW1 Navy Sword with leather sheath. You will also find a rarely offered WW1 British Cavalry Officer sword of an officer who served in the trenchs of Verdun Battle, the deadliest battle in the History with 300,000 deaths. French officers also wore swords during WWI and you will also find some Napoleon-era French swords.
WW2 Japanese swords available
During WW2, swords were less used on the battlefield, except by the Japanese army. In Japan, since the samurai swords and the ninja swords, the sword is much more than a weapon, it bears a highly symbolic status. All Japanese officers had a Gunto Sword during WW2. WW2 Japanese swords are very nice decoration and study objects and they are highly sought-after by Japanese militaria collectors. That's why a Japanese sword from WW2 can reach a high price, around $800 for a Japanese WWll Army officer's sword in mountings Gendaito "Takahashi Yoshimune" in good condition. On this page, you will find various types of Japanese swords : Shingunto, NCO swords, katana or Shinto for examples.
Swords from the American Civil War
Unlike in Japan, swords weren't so much used in the XXth century by the American Army. But there were some rare and splendid swords in use during the US Civil War. People interested in the US Civil War swords are looking for rare officer swords. For example a US Civil War Model 1840 Ames MFG Co. Cabotville cavalry sword dated 1851 will worth around $600. US military swords are very popular all around the world.
Very rare historic swords from various countries
As said, officers were wearing swords in nearly all countries before WW2. In Napoleon army, all French officers wore a sword even during their civil life. On this page, you will find some very rare swords from the 19th century. For example, this Polish naval officer sword has been found at $17,000 online and was displayed here.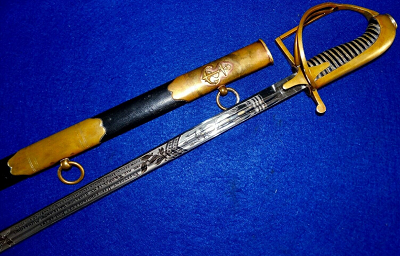 A sword from a Polish officer, Poland, before WW2
Authentic Korean military swords can also face a very high demand online. If you have any question about the value of a military sword, about a sword supplier or about a real officer sword, feel free to send us an email, we will be happy to help you.
The rarest sword in the history ? Napoleon's sword !
The sword worn by Napoleon Bonaparte 1st Consul during the battle of Marengo, on June 14, 1800, was auctioned off in 2007 for 4.8 million euros, a "world record" for a souvenir of Napoleon and for a weapon, announced the Osenat auction house in Fontainebleau. The saber was acquired for an amount of 4,811,754 euros by a descendant of the family of Napoleon, told Bernard Croissy, the expert of the sale which took place at the house of Osenat auction in Fontainebleau. "It is a world record for a memory of the Emperor, for a saber and for a weapon in general", welcomed Mr. Croissy. The saber, classified as a historic monument, was estimated between 1.2 and 1.5 M.euros. Gifted by Napoleon to his brother Jérôme, future King of Westphalia, it comes from the collection of Prince Victor Napoleon and never left the emperor's family. It is the last sword of Napoleon in private hands, the others being exhibited in museums, said the auction house, according to which it is an "exceptional" work. 97-cm long, it was produced by the Versailles factory and designed by Nicolas-Noël Boutet, artistic director of the factory.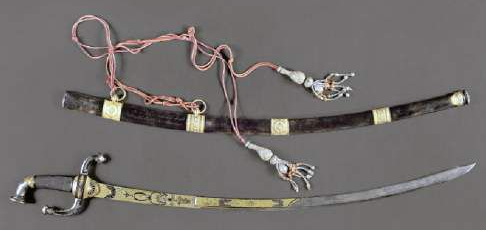 This sword from Napoleon has been sold for €4.8M in 2007
Presented in a wooden case covered with leather, it shows a very beautiful curved damascus blade, probably from Solingen and entirely engraved with etching. Its oval pommel-shaped knob reveals on its upper part, a gold Jupiter head. Presented with its silk cord belt, the burnished steel sheath is enriched with five gold fittings. You can read above the inscription: "Sword of Napoleon the Great at the Battle of Marengo". During the second Italian campaign in Marengo, against the Austrians, the future emperor went to the front with this saber, in order to give courage to his troops when everything seemed lost. The battle had then been won. In October 2005, a beaver Napoleon bicorn hat had been offerred at auction for 66,000 pounds (97,020 euros) at Christie's in London. In December 2004 at the Hôtel Drouot, the unique and unpublished manuscript of the "Memoires" dictated by Napoleon to Marshal Bertrand, the generals of Montholon and Gourgaud, had been offered for 293,945 euros to a Swiss private collector.
That's a nice sword, isn't it ? But not sure, it will join your collection ! Anyway you will find many other rare swords on this page!

Top 100 Militaria :
Top 100 Militaria
WW2 militaria
WW1 militaria
US Civil War militaria

Militaria by army :

Militaria by type :